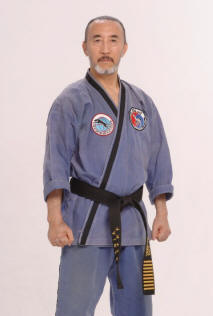 We appreciate your interest in the most respected, innovative, and leading Martial Arts organisation, the Action International Martial Arts Association. We hope to have you as a joining member out of the many around the world once you've read through this information....
The Action International Martial Arts Association proudly grows on the foundations of the true martial art tenets and works toward the prosperity of its members. From our commitment to "no politics" to our scientific approaches on curriculum to our President and Founder who has gained popularity as a living legend of his art, you will quickly find what makes the A.I.M.A.A such a unique organization that stands out from any other.
Grand Master Hee Il Cho, a true legend in the martial arts community, is one of the most respected martial artist of our time. Grandmaster Cho has been inducted to every major martial art Hall of Fame and has shared his 45 years of knowledge with thousands of people around the world. Grandmaster Cho has students journey from all parts of the world to train and study with him. From Ireland to India and all throughout the United States and Canada, martial arts students travel several times each year to enhance their skills as a martial artist. Grandmaster Cho has also instructed some of Hollywood's biggest stars as well as co-starred in several motion pictures himself.
The A.I.M.A.A is a no politics organisation. We are a service-oriented organisation, dedicated to support the achievements of our members' goals. You as an A.I.M.A.A Instructor or Student will be entitled to countless benefits, only guaranteed to assist you in achieving success. We believe keeping an open line of communication between the head of the organisation and its members is very important. A.I.M.A.A provides several privileges to its members. One definite privilege that separates us from other martial arts organisations is the direct relationship allowed with the President and Founder of the association himself, Grandmaster Hee Il Cho. No other martial arts organisation provides a direct line of communication with its President/Founder. Grandmaster Cho has been inducted into every major martial art Hall of Fame and has appeared on over 70 martial art magazine covers. He is the author of 11 best selling martial art books and is the producer of over 70 instructional martial art videos.
The A.I.M.A.A internationally recognises ranks of all Korean martial arts practitioners who hold a current certification from the International Tae Kwon-Do Federation or the World Tae Kwon Do Federation, as well as the governing bodies of Tang Soo-Do, Moo Duk Kwon and others.
A.I.M.A.A's unique style of Taekwondo is a complete martial arts system. Our instructors offer more than just the art of tae kwon-do, students will also gain confidence, learn self defence, along with the physcial training of boxing, kickboxing, grappling (ground defence) , R.A.P.E TM Defence and much, much more. There are many reasons to join A.I.M.A.A's Taekwondo. The benefits of health, fitness, self-defence, and sport are just a few of the values of martial arts training. The martial arts continue to grow with more than 50 million students worldwide. The major achievement of martial art practitioners has not been the fighting skill gained through training, but the physical and mental growth of an individual.